Let's face it, most men deep down wish for a man cave. Now whether their wife or significant other allows for them to occupy a room in the house crammed full of manly things is a whole different ball game. Nonetheless, most guys out there are all seeking for that sanctuary within their house to escape everyone, and better yet an awesome place to host their friends to watch sports games and drink beer.
What exactly is a man cave?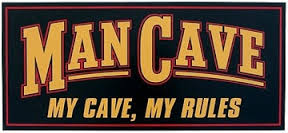 The term man-cave was coined a few years back now; but suffice it to say the term itself does a pretty good job of explaining what the purpose of a man cave is. The idea behind a man cave is to convert a room, basement, shed, or some area of the house into a room for the husband or dad of the home. Most husbands and fathers work long hours to provide for their families. Therefore, a room where they can experience quiet time, or watch the game uninterrupted by children, and a place for their friends to gather can seem like an oasis in a house full of chaos. Most man caves revolve around some sort of sporting theme. It may be baseball, basketball, football, college sports, or even NASCAR; there are endless options to make dad happy.  The idea would be to convert this special space into a viewing and gathering area to watch those types of sports. Maybe dad isn't into sports at all, maybe he is into wood working or some sort of outdoor activity in which case a man cave may be made in an outdoor shed. There is no right or wrong way to construct a man cave; the options truly are endless.
What are the essentials of the perfect man cave?
Although there is no right or wrong way, most man caves do have some sort of comfy seating arrangement. Ideally, a nice big reclining couch would take up a large portion of the man cave. A reclining couch will definitely provide the father or husband of the house a place to kick back and relax. In addition to the couch, most man caves, well the best of them anyways, will have some sort of bar or keggerator set up. This is the ultimate dream of almost any man out there; a place to entertain their friend and of course enjoy an adult beverage or two. The bar area is likely to be the draw to the room, so it is easily understood that this can be one of the most costly additions to the man cave.
As previously mentioned, most man caves are going to be decorated in some sort of sporting theme. In order to fully support a sporting team, a television is necessary to watch all the "big games" that may be aired within the man cave. It goes without saying that the television can be a costly addition to any man cave. Making this matter worse is the fact that most men take their TV watching serious, and size does matter. The bad news is with a larger TV and the latest technology can come a stiff price tag. Keeping it modest in the television department without sacrificing too much viewer experience will help to cut cost.
Along with the television comes the sound system. If you go out and buy the latest and greatest flat screen television, surely this man cave will need surround sound to get the full effects of "being in the game." As with the television there are countless surround sound system options. For those that prefer their man cave outdoors, which seems to be happening more and more these days, outdoor speakers can provide the perfect solution. Not only will outdoor speakers provide plenty of volume while watching the game, they can provide music while dad is working on his favorite hobby. Buying quality outdoor speakers is critical to ensure longevity. There are many discount speakers out there, but they can rot out after just one season when exposed to harsh environments. It is best to do your research and use review sites to find the best outdoor speakers for the money. Outdoor speakers, surround sound systems, televisions and a bar are just a few of the items necessary to create the ideal man cave.
Every man cave will be unique to his owner; that is the beauty behind the man cave. Again, there is no right or wrong way to customize a man cave. Remember that bigger is not always better when it comes to man caves. Some of the most entertaining man caves come in small customized packages. Dedicating a room or space in the home to dad and allowing him to decorate it as he pleases is the least we can do for the hard working men in our lives.