Hosting parties always sounds like a great idea until it's time to actually prepare for the party. All of a sudden you realize you should have done a little bit more planning and not waited until the last day to get ready. It always ends up requiring way more work than you intend for them to. At first it starts out as just a "casual get together". You say "we will just throw some hamburgers and hotdogs on the grill. No big deal". But as the day of the party creeps up, you take a look at your outdoor patio area and realize it needs some cleaning up. You'll definitely have to have that husband of yours do some yard work and landscaping. Maybe even pressure washing? And even though its outdoors, you still need to go ahead and clean the inside of the house from top to bottom. Obviously people are going to need to use the bathroom. And what if it rains? Do I have enough food? Maybe we should make chicken, too. What about drinks? We should probably have wine for those that don't like beer. And soda for those that don't drink alcohol. Before you know it, this party is a much bigger headache than you ever meant for it to be. That's why planning ahead and having the essentials for an outdoor party is completely necessary. Once you do have those essential items, it will be a lot easier to throw together a party for any occasion, whether it be 4th of July, Super Bowl, Labor Day weekend, Father's Day or just because it's summer and what reason is there not to?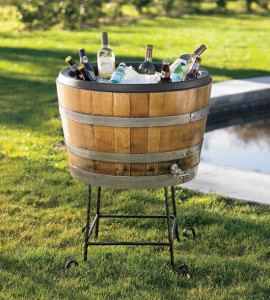 An outdoor beverage cooler is the first thing that should be on your list, because if nothing else there will always be drinks at a party. Having a patio cooler to keep your beverages cold and conveniently close by is essential, rather than sending people in and out of the house every time they need a new drink. If your goal is to keep people outside, an outdoor patio cooler will be your best friend. There are plenty of outdoor beverage coolers to choose from in a variety of shapes and sizes, so it's up to you which one will work best. However, the bigger the better when it comes to parties. But a factor more important than size is really ice retention. Ice retention is the length of time an outdoor cooler or a patio cooler will keep your ice from melting. With the perfect party cooler on your hands, there is no need for you to play bartender. You can party on with all of your guests.
Having a nice set of outdoor furniture is another must-have for any outdoor house parties. You want your guests to be comfortable and be able to relax. Having plenty of seating to accommodate everyone will not only let your guests relax, but you will be able to when you see everyone else enjoying themselves and not awkwardly standing around praying for someone to move from their seat. Wicker furniture is a big no-no! Sorry, but nobody finds wicker furniture comfortable in the least bit. However, if you are on a budget and wicker furniture is a must, make sure there are plenty of cushions to go around. You don't just have to stick with traditional furniture either. Add a few bench swings, a hammock or even have a few bean bags lying around to put off a relaxed vibe. You will appreciate it as much as your guests do. Especially if they have that patio cooler right at arm's length and never have to leave that hammock.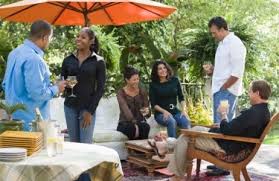 The one thing that can put a huge damper on any party, regardless of how good the food is, are those pesky annoying mosquitoes! If there is one thing you can do for your guests, do this. Make sure you have plenty of mosquito repellent available to them. Whether it is a can of bug spray, citronella candles, a mosquito trap, or repellent bracelets, have something. Anything. If your guests are miserable outside, they will either end up inside or they will end up leaving. Either way, that is not good news for you or your party.
The last essential, which may seem like common sense, is you must have some type of entertainment. Don't rely on your guests for the entertainment and don't allow any of those awkward silent pauses to haunt your party. Have some type of upbeat tunes playing or an outdoor television broadcasting the football game or some type of white noise. You don't want the noise blaring so that your guests are unable to hear over one another. You just want enough noise so that they have something to fall back on when those silent moments do creep up. Because they will. They always do.
If you always have an outdoor patio cooler ready to go, plenty of outdoor furniture, mosquito repellent and some entertainment on hand, you can be ready to host a party at any given time without much notice. The cleaning and the food can be taken care of on the day of the party. Everything else will fall into place.